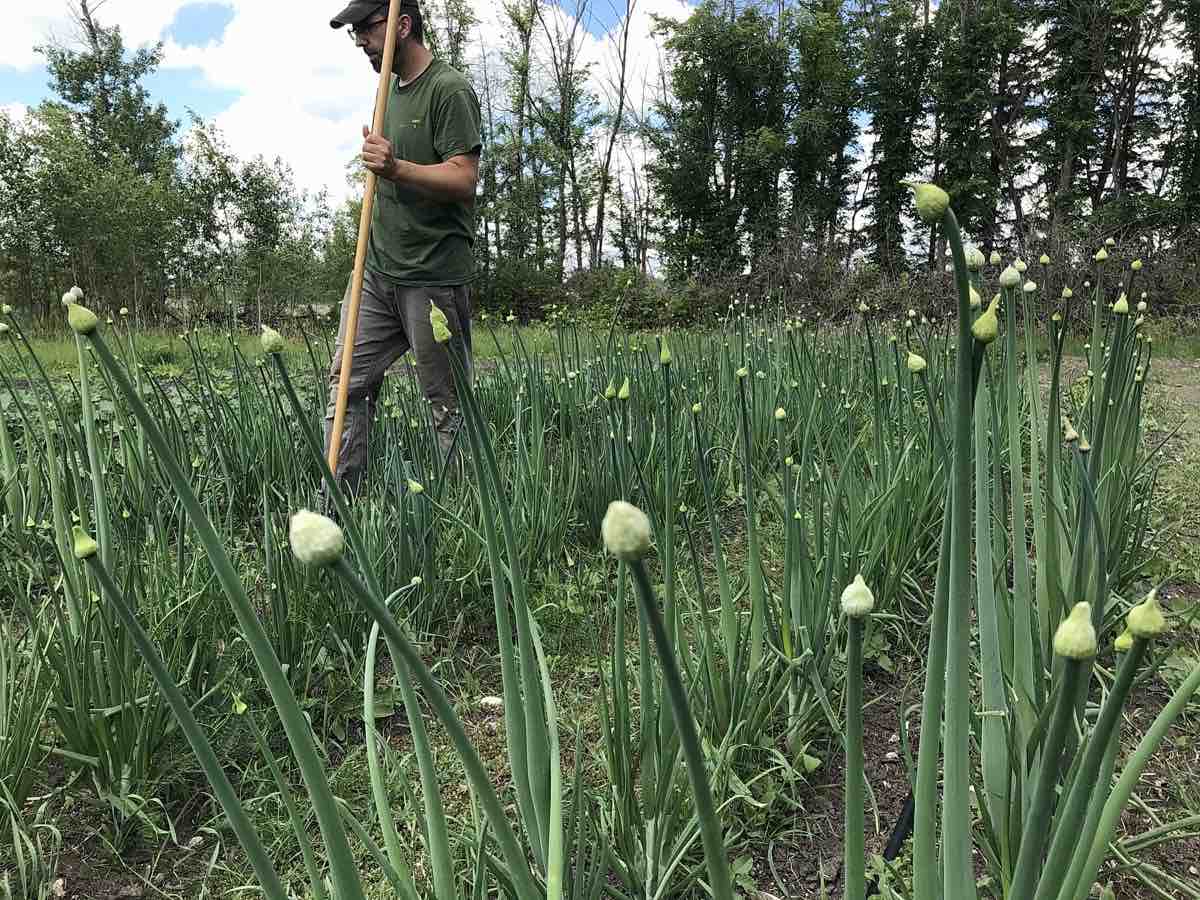 My name is Craig Boychuk.
I used to be a lazy gardener, and now I'm a meticulous seed grower.
No Coast Seeds is located near Calder, Saskatchewan in Treaty Four Territory – the lands of the nêhiyawak, Anishinaabe, Dakota, Lakota, and Nakota, and homeland of the Métis Nation.
My family were some of the first Ukrainian settlers in the area in the late 1800s, clearing land for a small subsistence farm that gradually evolved into a modern grain and cattle operation. Grain production is still ongoing and has been certified organic since the late nineties. Goats eventually replaced the cattle, and now my seed project has taken up residence in the former goat barn (and most of the house). My uncle Elmer is still growing organic cereal crops on 493 acres, and my seed production plots take up just under one acre. The farm has an additional 223 acres of natural aspen parkland - a mix of wetlands, forest, and native prairie.
I've been a home gardener for a long time, but my interest in seed production was pretty casual until 2011 when I read Carol Deppe's book Breed Your Own Vegetable Varieties. It was another eight years before I would pursue the craft in earnest.
In the winter of 2018 I decided to move to the family farm, and began growing seeds on a small commercial scale in 2019.
I have been helped immensely along the way by my friend and partner Doreen, whose support has been instrumental in getting this project off the ground. She is an essential part of the garden crew - the only part, aside from me!
2023 is the first season the seeds I grow will be offered for sale, but I've been hard at work for the past four years setting up and adjusting growing systems, doing research, conducting variety trials, establishing a breeding program and learning the ropes of growing seed on the prairies.
The Seeds I Grow
All of the seeds I produce are open pollinated, and free of intellectual property rights and patents. Many carry the OSSI-Pledge. I use organic production standards, but am uncertified at this time. My seeds are GMO-free and untreated. Click here for my current Non-GE Affidavit.
I focus on crops that are well suited to my zone three climate here in East Central Saskatchewan. With an average of 120 frost-free days, I aim to steward varieties that reliably produce a food crop AND a seed crop as quickly as possible.
On one hand, I want to grow seed crops that can mature without assistance in my climate - both as a point of principle in the quest for local food security, and because it simplifies my workflow. On the other hand, I recognize that many growers (perhaps the majority?) don't look past the food crop, so I have begun to experiment with weather protection and season extension techniques for a few challenging crops I have a keen interest in.
Plant Breeding
For me, there is nothing more exciting than finding an interesting off-type and growing it out to see what happens. Every season is a treasure hunt. This mindset has been the basis of my breeding work so far.
The most exciting finds are ones I haven't planned, but I also deliberately create conditions for specific outcomes. Many of the varieties I'm working on have come from diverse groups of plants curated for individual characteristics I want to combine. I let the plants do the work for a few generations, then begin choosing promising lines to grow out and evaluate, controlling pollination and performing more rigorous selections.
I offer early-generation populations and works-in-progress as a handy jumping-off point for plant breeding enthusiasts of all kinds, as well as the adventurous grower who is looking for a surprise. Unless you're working with wild plants, all breeding endeavours build on the work of others. It makes me happy to be able to honour this concept and pay it forward by making my "ingredients" available.
Being new to plant breeding, all of my farm-original varieties are just beginning their journey of evolution, and they will continue to improve, change, and adapt with each generation.
No Coast Seeds is a seed company partner with OSSI. Their mission is to maintain fair and open access to plant genetic resources worldwide in order to ensure the availability of germplasm to farmers, gardeners, breeders, and communities of this and future generations.
OSSI-pledged varieties are some of the most interesting new open pollinated cultivars available today, and an amazing resource for plant breeders. I steward a number of OSSI varieties, including several NCS farm originals.
The OSSI Pledge:
You have the freedom to use these OSSI- Pledged seeds in any way you choose. In return, you pledge not to restrict the use of these seeds or their derivatives by patents or other means, and to include this Pledge with any transfer of these seeds or their derivatives.
The OSSI Pledge ensures the Four Open Source Seed Freedoms for this and future generations:
1. The freedom to save or grow seed for replanting or for any other purpose.
2. The freedom to share, trade, or sell seed to others.
3. The freedom to trial and study seed and to share or publish information about it.
4. The freedom to select or adapt the seed, make crosses with it, or use it to breed new lines and varieties.
For more information visit the OSSI website.
Our Guarantee
I want every customer to have a good experience purchasing and growing their seeds. If you find something wrong with your order please let us know! 

If you are unhappy with your seeds, I will replace them or refund the purchase price up to one year from the date of purchase.
Every seed lot I sell is regularly germination tested and has been found to exceed federal germination standards for the year in which it is sold. The most recent germination rates are posted with each variety listing.
We use isolation or hand pollination to ensure our varieties are true to type. Nonetheless, it is still possible for the occasional off-type to occur in a seed lot.